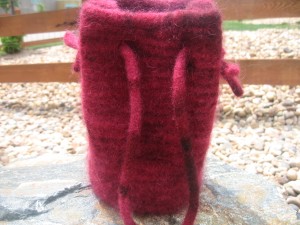 Wine-Gift-Tote
Yarn: 1 1/2 skeins of Lamb's Pride Worsted, 85 % Wool, 15 % Mohair
Needle: US 11, 16" circular
Cast on 18 stitches.
Knit 36 rows (garter stitch = knit back and forth)
Pick up and knit 18 stitches on each side = 72 stitches total (includes the 18 cast on stitches)
Start knitting in the round.
Round 1: (place marker, k18) repeat to end of round – tip: use different color marker for first marker to mark beginning of round
Round 2: (k17, slip 1 as to purl, slip marker) repeat to end of round
Round 3: knit all stitches and slip markers as you get to them
Repeat rounds 2 and 3 to a total hight of 20 inches.
Bind off with I-cord bind off.
Handle: knit two 3 stitch I-cords, each about 4 feet long